I am very happy to announce that my work is now being shown at the Ars Electronica Center in Linz, Austria. Twenty of my still images and two site-specific time-based works are being shown in the Center's Deep Space projection space. The showing is currently slated to last at least through 2009.
The Ars Electronica center is one of the longest-established centers for new media art, celebrating its thirtieth anniversary this year. On 2 January 2009, they celebrated the grand opening of a new building and the start of Linz's year as the European Union Cultural Capital.
In the Center's new building, Deep Space is a dedicated projection gallery with the capacity to show 4K (3840 by 2160 pixels), stereoscopic, 16 meter by 9 meter projections simultaneously on the wall and floor! With my still images, visitors will be able to zoom in on the full detail of the works, allowing them to explore the works in a way that until now was only possible in my studio. Very exciting.
Through fortuitous circumstance, I was in Linz for a site visit on the day the Deep Space projectors were turned on for the first time and my pieces were the first images to be projected in the space.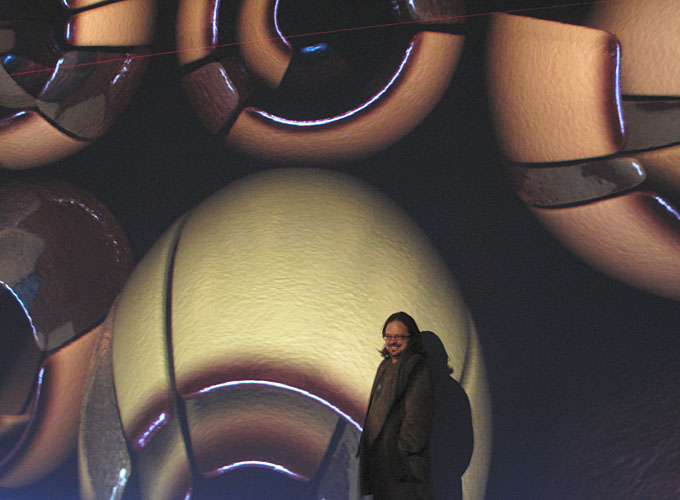 Here I am standing in front of a portion of EPF:2003:V:B:5::383(25) with a silly happy grin.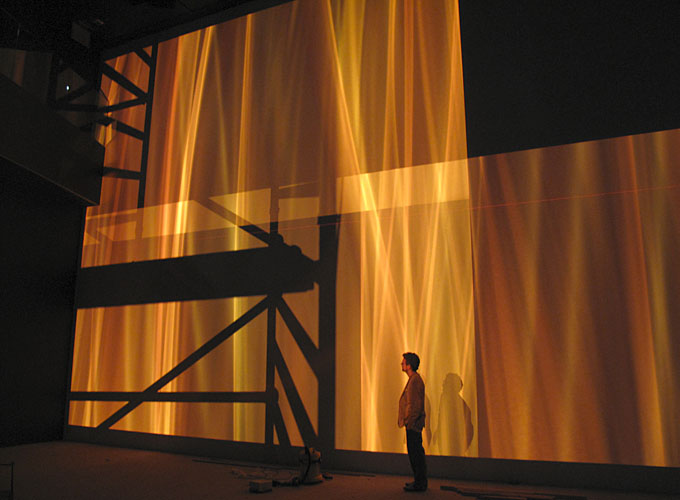 Here is Sean, acting as human scale, in the space, standing in front of a projection of my time-based work, 2007.3. The horizontal red laser line is being used temporarily for projector alignment. Four projectors are being used for the wall and another four for the floor (one of the projectors shut down within a few minutes of starting up). The bright horizontal and vertical bands are the projector overlaps that had yet to be blended away in the installation. (All of this is from early December, when the new building still was very-much-under-construction.)
In addition to the still images being shown, I prepared site-specific versions of 2006.7 and 2007.3 to be shown in the space. The two time-based works were recreated to take full advantage of the 4K cinematic projectors. Below are reduced stills from 2006.7 (Deep Space) and 2007.3 (Deep Space).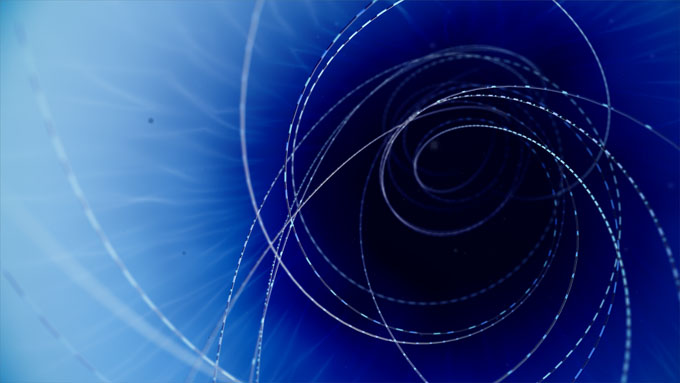 Additional events incorporating my work are being planned throughout the year, including during the Center's annual Ars Electronica Festival, 3–8 September 2009. I will post details here as soon as they are available.
Some links:

Organized under artwork, events and news | permanent link